The Dr. Oz Show segment highlighted exactly why Big Tree Farms' coconut palm sugar could well be the best sugar alternative out there. Switching from regular sugar to low glycemic coconut palm sugar could prevent those blood sugar spikes and crashes that make us hungry and then cause us to gain weight, as well as leading to insulin resistance. (view show segment>)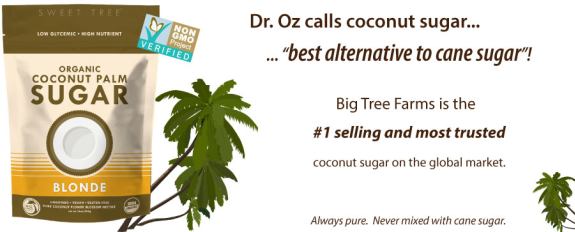 Big Tree Farms' coconut sugar was the coconut sugar Dr. Oz chose as the best alternative sweetener for several reasons. Big Tree Farms has been pioneering coconut palm sugar in the international market almost 10 years prior to being featured on The Dr. Oz show. They were the world's first certified organic coconut palm sugar and are to date the largest organic coconut sugar supplier in the world.
Because of Big Tree Farms long history of working with coconut palm sugar, their expertise and quality is second to none. Big Tree Farms works directly with over 5,000 organic coconut farmers (growing cocnuts every day), providing transparent and fair trade prices for their product, so consumers know that their purchase is supporting developing farming communities and thousands of families.
Visit Big Tree Farms
Visit Big Tree Farms on Facebook
https://marsham.ca/wp-content/uploads/2018/09/logo-vector-marsham.jpg
0
0
admin
https://marsham.ca/wp-content/uploads/2018/09/logo-vector-marsham.jpg
admin
2013-11-04 15:41:15
2013-11-04 16:23:07
Dr. Oz Show: Coconut Palm Sugar