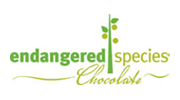 Endangered SpeciesChocolate is a mission-driven company that is equally passionate about chocolate and our environment. Endangered Species Chocolate is committed to providing chocolate lovers with premium, ethically traded, all-natural and organic chocolates which are sustainably grown. Adding to the greatness in each chocolate bar, Endangered Species Chocolate donates 10% of their net profits to fund endangered species and habitat conservation across the world. A leading brand in the natural food category, Endangered Species Chocolate manufactures more than 30 products.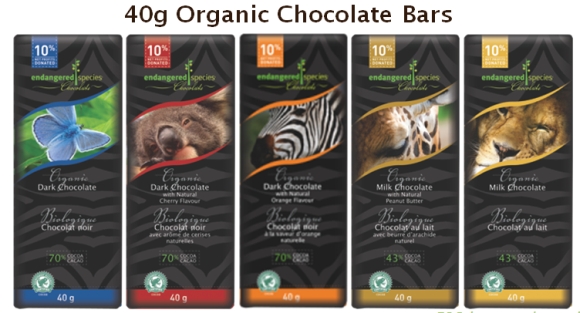 About Endangered Species Chocolate Foundation
A registered 501c3 public charity, the Endangered Species Chocolate Foundation supports ecological sustainability for the planet by finding alternate ways to create balance between species, their habitat and humanity. Rooted in reverence for all living things, this Foundation recognizes the importance of respecting the interconnectedness of all creatures that share the Earth. Endangered Species Chocolate Foundation is the non-profit arm of Endangered Species Chocolate, a for-profit mission-driven company.
Which organizations benefit from ESC's donations? Each year, ESC donates 10% of net profits generated through their all-natural and organic chocolate purchases to various organizations and NGOs which support a) species, b) habitat and c) humanity. Their partner organizations can count on, at a minimum, a guaranteed donation of $10,000. ESC selects non-profit groups that have a demonstrated commitment to conserve, protect and restore ecosystems for wild plants as well as animals–thus increasing their capacity to thrive and reducing their chances for extinction.
What is the Difference Between Fair Trade and Ethically Traded?
Endangered Species Chocolate cocoa is ethically traded. Philosophically, ethical trade and fair trade are one in the very same. ESC buys their cocoa from small family-owned properties, thus helping sustain the habitats and communities in which they exist. Since their cocoa is ethically traded, they ensure that farmers have access to humane working conditions and, at the same time, a fair price in return for the cacao. ESC's organic cacao farms are now also Rainforest Alliance Certified™, ensuring that the cacao is grown in the shade of forests, wildlife is protected and farmers have the ability to adapt to more sustainable ways to grow their cacao. Choosing Endangered Species Chocolate is one way we can help support sustainable forest farmland and the species that flourish there.
What Is The Difference Between All-Natural And Organic?
Organic ingredients are certified by a third-party agency to guarantee that they are grown without the use of pesticides or synthetic fertilizers. ESC's organic chocolate is Certified Organic by Oregon Tilth. While all of their all-natural chocolate does not carry this certification, they feel confident about the way their all-natural cacao is grown, using sustainable agricultural methods and little to no pesticides or fertilizers.
Vegan Chocolate?
Are any of their products Vegan? ESC offers a wide selection of chocolates that are Certified Vegan by Vegan Action. Look for the Vegan Certified symbol located on ESC product packaging or the product description pages on their website, www.chocolatebar.com. Please note that all of their Certified Vegan chocolates are produced on shared equipment which also processes dairy.
Visit Endangered Species Chocolate
Visit on Facebook
https://marsham.ca/wp-content/uploads/2016/12/endangedspecies.png
100
180
admin
https://marsham.ca/wp-content/uploads/2018/09/logo-vector-marsham.jpg
admin
2016-11-01 18:03:15
2016-12-25 19:07:43
Endangered Species Chocolate