Lakewood's Pure Pomegranate juice is one of the best additions to a healthy diet, as it contains 10-12 fresh pomegranates in every bottle. There is no shortage of research indicating that pomegranate juice is "Nature's Super Fruit". Not only is it a perfect addition to a healthy diet in terms of anti-oxidants, phytochemical nutrients, dietary fiber, vitamins and minerals, it could also be one of the best steps towards optimum heart health.
The Health Benefits of Pomegranate Juice
A 2008 Israeli study highlights the antioxidant benefits of pomegranate juice, suggesting that pomegranate juice consumption for 3 years by patients with carotid artery stenosis reduced common carotid artery thickness, blood pressure and LDL oxidation. Pomegranate juice, being rich in tanins (the same chemical found in abundance in black tea and red wine), possesses demonstrated anti-atherosclerotic properties related to its potent anti-oxidative characteristics. In one study of hypertensive patients, daily consumption of just 50 ml of pomegranate juice for two weeks reduced systolic blood pressure by inhibiting serum angiotensin-converting enzyme. Pomegranate juice consumption may also be a powerful antiviral, specifically acting as a HIV-1 entry inhibitor and candidate topical microbicide. As if that's not enough, yet another study shows that pomegranate juice has antibacterial effects against dental plaque.
Pomegranate Juice – "Nature's Super Fruit"
Essential Micro-Nutrients
Valuable Polyphenols and Anthocyanins
Good Source of Potassium, Manganese, Folate and Vitamin K
Natural Source Minerals Help Restore Body Electrolytes
Help Maintain Normal Cholesterol Levels and Support the Immune System
Diets containing foods that are good sources of potassium and low in sodium
May reduce the risk of High Blood Pressure and Stroke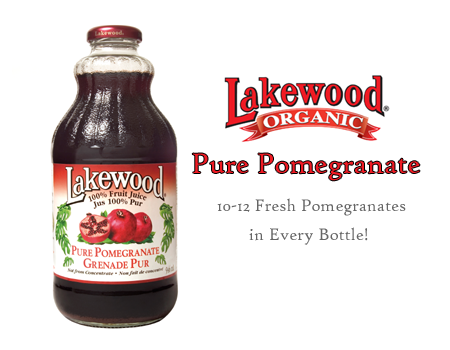 Lakewood Pomegranate Juice in the Media
Lakewood's Pure Pomegranate Juice was featured on an episode of the NBC's Today Show during a segment entitled, "Eat This, Not That".
Lakewood Juices
Since 1935, Lakewood Juices has innovated an eclectic, premium line of pure organic fruit juices using only the finest organic ingredients. Their juices are a delicious, practical natural source of anti-oxidants, phytochemical nutrients, fiber, vitamins and minerals. Lakewood prides itself in producing fresh pressed 100% pure organic and premium juices, with no additives or artificial ingredients of any kind. All Lakewood juices are made with certified organic fruit and vegetables – grown and harvested in accordance with the USDA National Organic Program.
visit Lakewood Juices
visit Lakewood Juices on Facebook
https://marsham.ca/wp-content/uploads/2012/01/lakewood-pomegranate.png
235
610
admin
https://marsham.ca/wp-content/uploads/2018/09/logo-vector-marsham.jpg
admin
2012-01-10 21:57:24
2012-02-04 21:47:49
Lakewood's Pure Pomegranate Juice