Manitoba Harvest Hemp Foods & Oils, the leader in high-quality hemp foods, recently re-launched its popular shelled hemp seeds and have rebranded it Hemp Hearts(TM). Hemp Hearts will offer the same high-quality Manitoba Harvest shelled hemp seed that consumers have come to enjoy and trust, only now with new and improved packaging and branding.
>

The increaing popularity of Manitoba Harvest Hemp Hearts isn't going unnoticed in the media either. Recently the nationally syndicated Dr. Oz program featured mention on the value of Hemp Hearts, as did the Robin Quivers radio program. Dr. Oz featured a great Hemp Heart(TM) recipe. This has been only one of many mentions on his program of the health benefits of hemp products.
"Naturally nutrient-rich and sustainably grown, hemp is one of my favorite examples of a food that is – and should be – making its way into more and more pantries, refrigerators and restaurant menus," said Ashley Koff RD, celebrity dietitian and author of Mom Energy: A Simple Plan to Live Fully Charged (Hay House, 2011). "Manitoba Harvest Hemp Hearts are packed with nutrients making them the perfect addition to any eating plan from omnivore to vegan, and gluten-free diets."
Manitoba Harvest Hemp Hearts shelled hemp seeds are heart-healthy, stacked full of Omegas, protein and fiber-rich with a delicious nutty flavor. They make a great topping for salads, cereal and yogurt, protein bars and shakes, smoothies, and are a part of improving one's health though dietary changes. On top of all this, they have environmental benefits:
Omega rich: Hemp Hearts boast the ideal ratio of healthy fats Omega-3to Omega-6, making them beneficial to cardiovascular health. Hemp is also the only food source for the rare Omega-6, gamma-linoleic acid(GLA), shown to support healthy skin, hair and nails as well as helping balance hormones and control weight.
Plant-based protein: Hemp Hearts are one of the most complete sources of highly-digestible, high quality protein. The protein found in hemp seed is comparable to soybeans and has higher levels of protein compared to other seeds, nuts, dairy products and meats. Hemp Hearts are the only whole food vegetarian source of complete protein that does not contain carbohydrates.
Planet-friendly: Hemp Hearts are not genetically modified, and hemp can be grown without fungicides, herbicides and pesticides.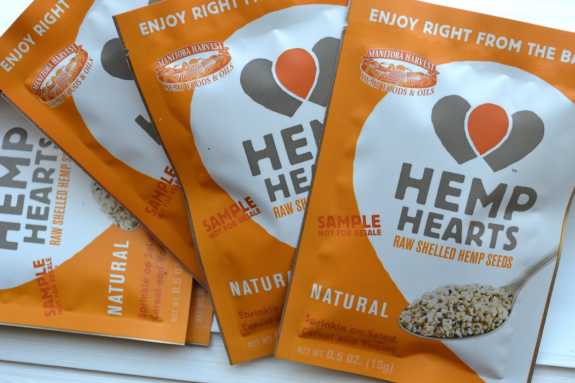 "Our shelled hemp seed is extremely popular, and we're excited to reinvigorate the product with new, benefit-focused branding," said Mike Fata, Manitoba Harvest CEO and Co-Founder. "There's so much to love about Hemp Hearts – they're nutritious, easy to incorporate into your diet and sustainably grown. With appealing new packaging, we believe we will introduce even more consumers to hemp foods."
Founded in 1998, Manitoba Harvest Hemp Foods & Oils is the world's largest vertically-integrated hemp food manufacturer. Manitoba Harvest is proud to offer award-winning products like Hemp Pro 70® (hemp protein concentrate), Hemp Bliss® Organic Hemp Beverage, shelled hemp seed, and hemp oil. (From The Globe and Mail: Inside Manitoba Harvest Hemp Foods)
Manitoba Harvest Hemp Hearts in the Media:
https://marsham.ca/wp-content/uploads/2011/12/manitoba-harvest-canada.png
235
610
admin
https://marsham.ca/wp-content/uploads/2018/09/logo-vector-marsham.jpg
admin
2013-11-04 18:34:56
2016-12-29 17:43:42
Manitoba Harvest Hemp Hearts