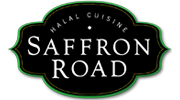 Saffron Road brings us the fastest growing brand of natural frozen entrées. They offer premium ingredients, including antibiotic free chicken, and authentic recipes, celebrating meals that families and friends of all cultures can enjoy at the dinner table.
In this tradition, we invite you to enjoy Saffron Road's All Natural Halal certified meals. Great food begins at the farm, so Saffron Road sources their ingredients from only the finest producers available. It's no coincidence that they buy from small sustainably run farms. All of their chickens are humanely raised with 100% vegetarian feed and are never given antibiotics – Saffron Road's Halal tradition demands their proper care and welfare.
Saffron Road Gourmet Frozen Entrées
Chicken Tikka Masala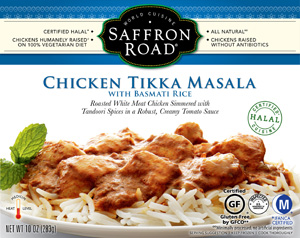 This entrée is an exotic epicurean delight! Prepared with tender, boneless, all natural chicken, and baked according to authentic traditions with freshly-ground tandoori spices simmered in a savory yogurt and tomato sauce.
Chicken Biryani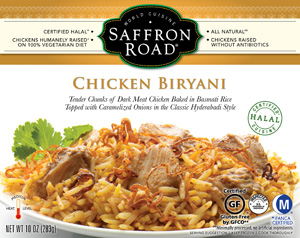 This outstanding entrée is an authentic reflection of Indian culinary art, originating from the regal kitchens of the Nizam of Hyderabad Provence. Perfected over generations, it is traditionally prepared by cooking Basmati rice with succulent chunks of all natural chicken and caramelized onions infused with an unmistakable blend of enticing spices, aromas and flavors.
Chicken Pad Thai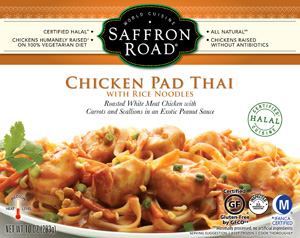 Like Venice in Italy, Thailand's magical Bangkok is built on a wide network of canals. So it should be no surprise that the art of the noodle is equally prized in each. Their Pad Thai is a delightful version of this national dish featuring wide flat rice noodles topped with all naturalroasted white meat chicken simmered with carrots and scallions in an exotic peanut sauce.
Lemongrass Basil Chicken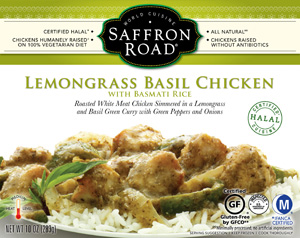 Thailand boasts one of the great cuisines of the world justly famous for its complex and intricate flavors. Which may be why it's also known as the "Land of Smiles." You'll smile too when you taste all natural roasted white meat chicken simmered in a lemongrass and basil green curry with green peppers and onions.
visit Saffron Road
visit Saffron Road on Facebook
https://marsham.ca/wp-content/uploads/2016/12/saffronroad.png
100
180
admin
https://marsham.ca/wp-content/uploads/2018/09/logo-vector-marsham.jpg
admin
2016-08-22 16:56:51
2016-12-25 19:10:36
Saffron Road